Bespoke Engagement Rings
For those who love something with a little more character, Salt and Pepper Diamonds, with all their flaws and unique appearance, might just be the answer.
Bespoke Engagement Rings
For those who love something with a little more character, Salt and Pepper Diamonds, with all their flaws and unique appearance, might just be the answer.
Header Text
Browse our collection of beautifully designed bespoke engagement rings. Featuring a range of inspirational designs from a classic single stone, to pave set diamond bands and much more. Whatever you envision, we can help you to create it. Vintage Engagement Rings Unusual Engagement Rings Contemporary Engagement rings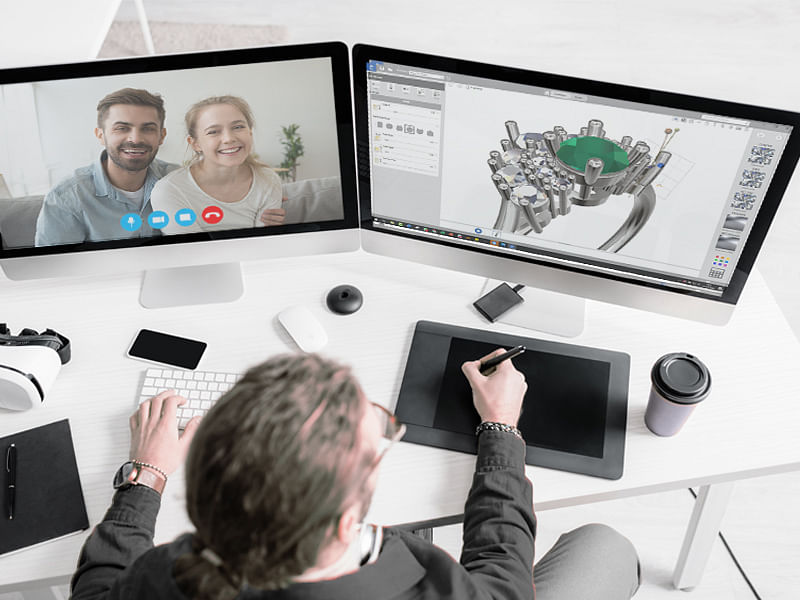 Step 1 – Begin your Journey
Schedule a complimentary consultation.
Don't worry – no commitment is required at this point. Your designer will guide you through the process, answer any questions you have and the questions that you did not know you had. At this time, you can share your own ideas, pictures, wishes and whims. Your designer will then get to work on your ring.
You can either come and see us in person or schedule an online consultation via zoom. We are used to working with people all over the world.
Using the latest in 3D modelling software our designers start your project live on the screen, developing your ideas to create the perfect piece for yourself or your significant other. During this stage of the bespoke process, you will consider different precious metals, coloured gemstones, diamond shapes and setting styles.
After your initial session, your designer will refine the design and send you conceptual renders along with images of a handpicked selection of beautiful stones to choose from, which meet your specifications and budget.
Step 2 – Let us bring your ideas to life
Receive photo-realistic images of your design
Once you have signed off on your conceptual model, our experienced CAD designers review every detail, making it perfect for manufacture. At this stage you will receive photo-realistic renders of your ring for final approval.
Because of our precise design software, we know the exact amount of metal needed, and the exact stone sizes to be used. This precision allows us to provide you with a fully transparent cost breakdown of your ring costs.
From experience we know that the renders we produce will give you a fantastic visualisation of your soon-to-be-completed ring. However, if you need to see something more tangible, physically hold a model in your hands before commissioning your design, you can order a prototype wax model or use our proposal ring service.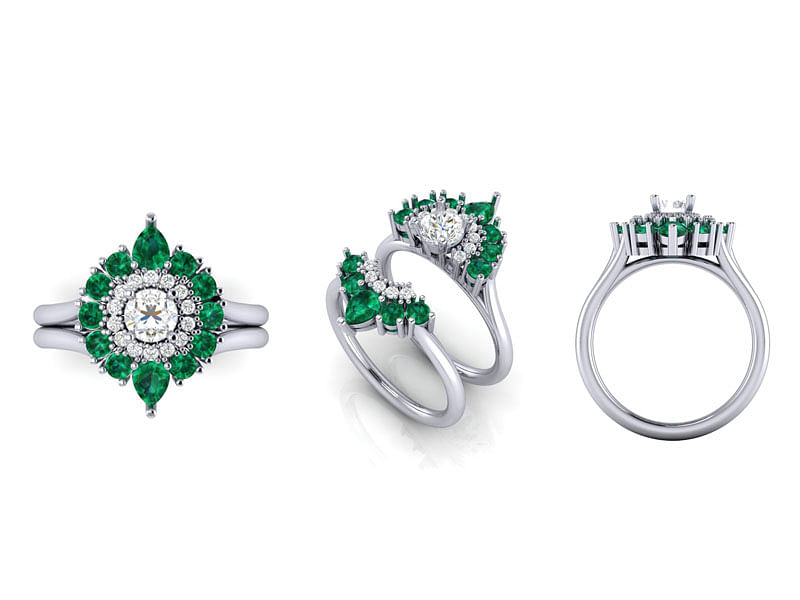 Step 3 – Things are now getting real
See your amazing design evolve
Once you are completely happy with your design our master craftsmen will get to work and start making your bespoke piece. It's only at this point that you will be asked to make a 50% deposit. Then you sit back and relax, knowing that we are bringing your ring to life.
Depending on the complexity of the design it may take our highly skilled craftsmen 3-6 weeks to work their magic. Your designer will discuss your project timeline in the conceptual phase. We keep you in the loop with email updates and then notify you once your ring is ready.
Step 4 – The BIG reveal
The moment you have been waiting for
Before shipping, we inspect every ring to ensure it is of the highest quality and meets our standards. Once approved, it is beautifully boxed and ready to dispatch. We will call you to arrange delivery to the most convenient location, making sure it is fully insured throughout its journey and preserving the element of surprise if you are doing this on the down-low.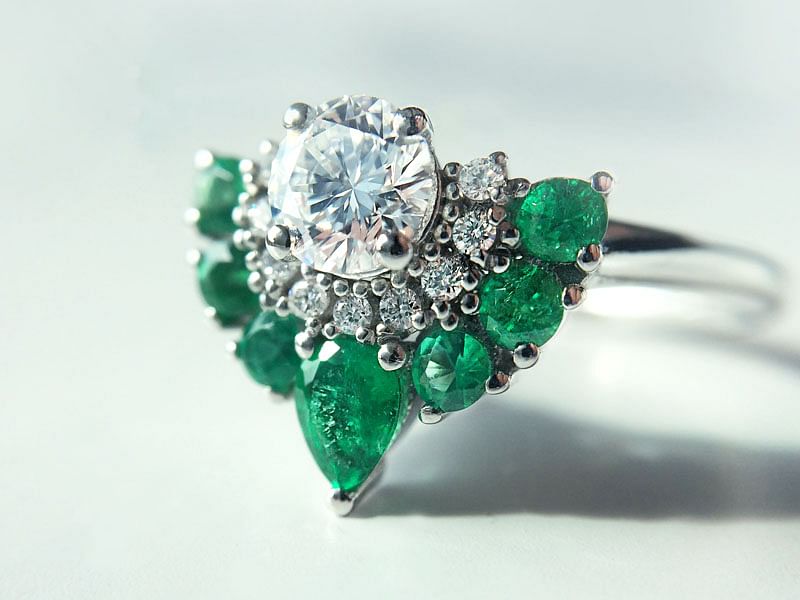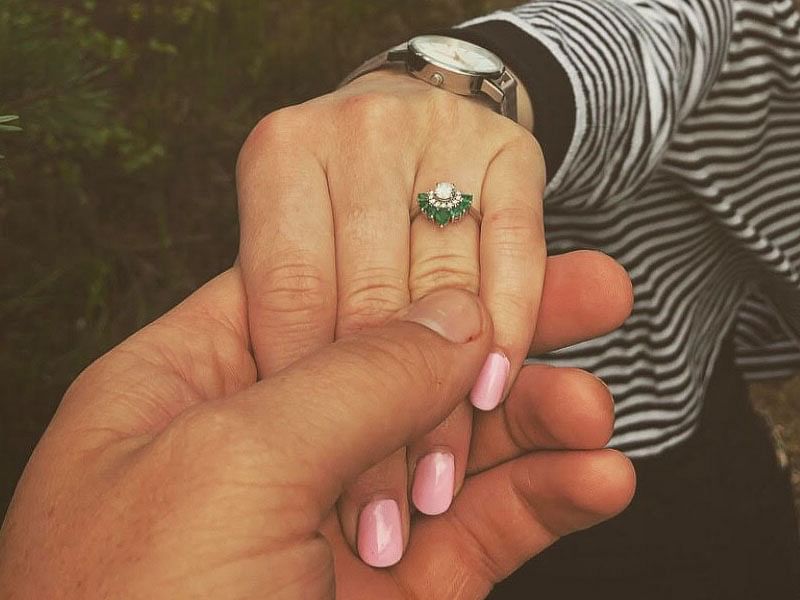 Step 5 – It comes with a book!
The memories stay alive after the champagne has gone
After your perfectly planned proposal, we will create a photo storybook of how your ring was designed and crafted. We can even add a proposal picture to the book for you.
Ready to create your own ring?
Durham Rose Truly Bespoke Love Stories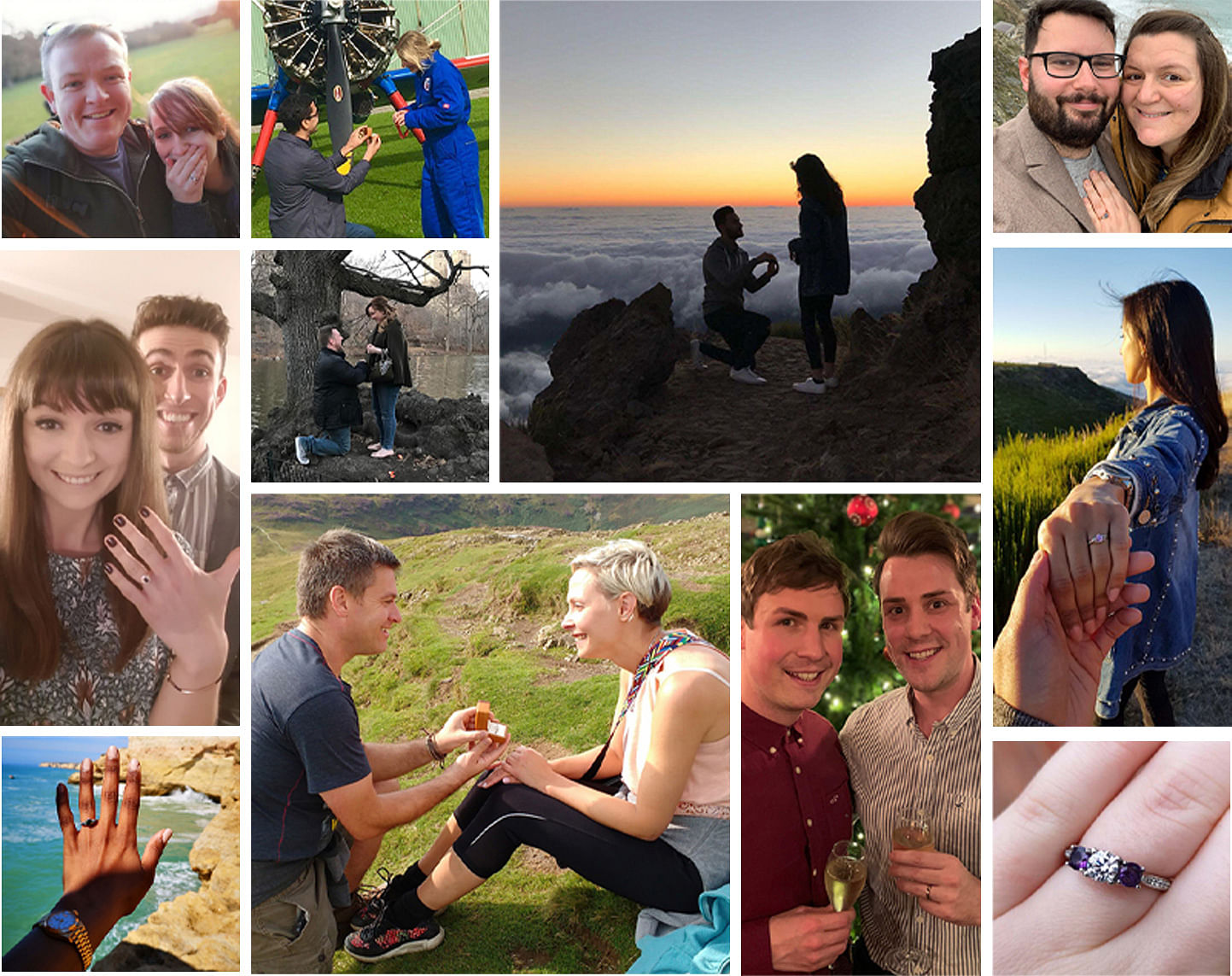 How much do bespoke engagement rings cost?
The cost of the ring will depend on the type of precious metal, gemstones and ring size that you are looking to use, but typically our prices start from ~£1450 in platinum and 18K, ~£1050 in 14K Gold and ~£850 in 9K Gold. Plus the cost of any gemstones/diamonds that you wish to incorporate. See here for more information on how we price our bespoke pieces. To speak to one of our designers about pricing, get in touch here.
What if I don't live near your London showroom or I'm out of the country?
We are fully set up to do our consultations online so wherever you are in the world we are able to reach out to you. We use a specialised screen sharing software so you can fully communicate with your designer and experience the same bespoke journey virtually as you would in house. We also Ship, fully tracked and insured worldwide. 
I want to make my proposal special, will you help?
We can certainly help you make your proposal as special as your ring design. We have years of experience and have witnessed many wonderful proposal stories that we can share to make yours just as memorable.
How long does it take to make a bespoke ring?
Typically a ring would take 4-6 weeks from the point of design sign-off to it being delivered to you. If you have a deadline, let our design team know and they will be able to advise on specific timescales.
Do you offer financing for bespoke rings?
We do not offer financing, but we can break down each payment to make it a bit easier on your bank account. If you would prefer using finance then you may require a better deal using your bank or a seperate finance provider. 
What if I don't know exactly what design I want?
If you are not sure where to begin then one of our experienced designers can certainly help inspire you. We can start by guiding you through a wide portfolio so you can get a feel for your likes and dislikes, from here we can build up a conceptual model that ticks all of the right boxes.