Bespoke does not have to be expensive.
We always have your budget in mind whilst we bring your ideas to life, however the budget isn't our primary focal point. At Durham Rose we are passionate about creating a unique experience for each client. We believe that this is a very special moment and one that you should always cherish. We have an incredible inventory of gemstones and diamonds at our fingertips, all available to be hand selected for your ring. This means that we are able to make suggestions to suit your individual requirements.
Perks of creating your very own.
As everything that we create is completely bespoke we do not hold stock of existing rings. Unlike many high street jewellers, whose sole focus is selling the stock they have, we at Durham Rose listen to what it is you are looking for and only then will we make suggestions using our expertise to guide you in the right direction.
We are very transparent with our costs and unlike most jewellers, we will break your ring down into components outlining each individual cost. This then allows you to assess where your money is being spent giving you the power to alter each specification.
Most jewellery stores are driven by sales commissions or the cost of advertising. Ours is simply the cost of making your vision become reality.
Frequently Asked Questions
What carat weight should I choose?
The joy of bespoke is that nothing is off the shelf and you can create your ring to suit the diamond size that's right for you. There are no rules about what size you should buy and how much you should spend, it's your design and the decision is completely yours! What you should consider is how the diamond will fit with your taste, your lifestyle and your budget.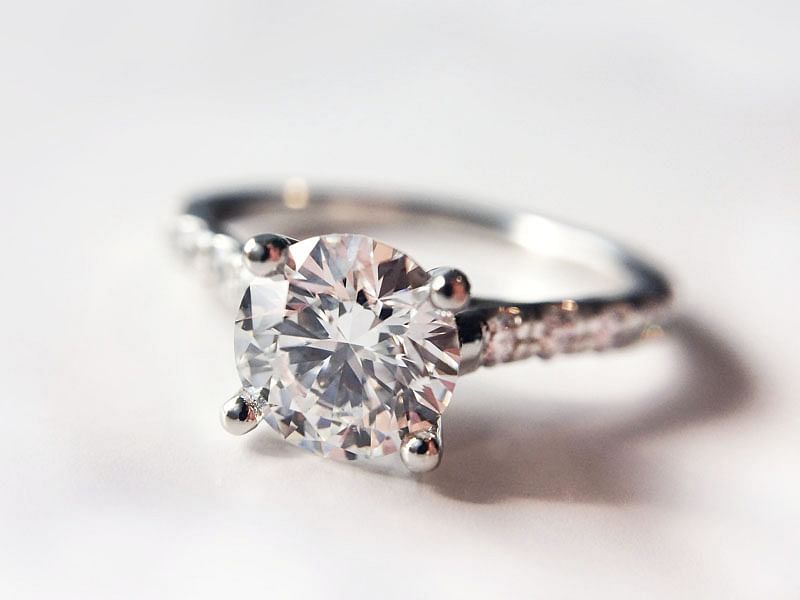 How much do people spend on an engagement ring?
With regards to pricing, we are very transparent with our costings and unlike most jewellers, we will break your ring down into components outlining each individual cost. This then allows you to make a more informed decision on where your money is being spent and how to tailor your design to meet your specific requirements. Our rings are individually created and not mass produced, such as the pieces that are readily available on the high street. Due to this, our set up costs can be relatively higher resulting in a starting price of £900 for each piece.
How much will my bespoke ring cost?
The cost of the ring will depend on the type of precious metal, gemstones and ring size that you are looking to use, but typically our prices start from ~£1450 in platinum and 18K, ~£1050 in 14K Gold and ~£850 in 9K Gold. Plus the cost of any gemstones/diamonds that you wish to incorporate. See here for more information on how we price our bespoke pieces. To speak to one of our designers about pricing, get in touch here.
How long does it take to commission a bespoke ring?
A typical order requires 3 to 4 weeks from the point of design sign-off (approval after consultation) to delivery. If you are trying to meet a specific deadline, please let our designer know and they will advise if it's feasible to meet such a timeline.
What does a design consultation involve? Is it free?
An online consultation is a free, no-obligation service in which clients can speak directly with one of our expert designers. Your designer will call you at a time that is convenient and will use a web-conferencing tool like ZOOM.  This will allow you to see the designer's computer screen via the screen-share feature, follow the design process step by step and make comments in real-time.  This method ensures that you are fully involved throughout the process and totally satisfied with the final product. All costs will be presented and discussed with total transparency, allowing you to adapt the design or choice of gemstone to suit your budget. To book a design consultation, get in touch with our designers here.
What happens if I don't live near London?
Our creative process is entirely virtual, contactless and convenient.  It doesn't matter where you live, we will accommodate you in the time zone for the consultation.  Your country of destination may impact the amount of duty and tax you may have to pay to clear your ring from customs and shipping costs.
I don't know my partner's ring size, does that matter?
Yes, knowing the ring size is important but we understand that sometimes it's hard to know for sure. We have put together some handy tips on how to find out your partners' ring size here. Alternatively, you may know an international size but not a UK size.  There are conversion tables available online. See how we measure and our resizing policies here.
What if I don't know what kind of ring I want?
Our designers will ask pertinent questions about your style and personality, your story and lifestyle.  You will also browse our style gallery of previous works done for other clients.  Our designers are pretty good at guiding you through this phase of the process and helping you see the inspiration that was there all along.
Here's why you should choose us
Our expert CAD designers are trained as jewellers too. The best of both worlds.
Work with us from the convenience of your home or office, at a time of your choosing.
We focus on the small details that make a huge difference
Access to global ethical sources for diamonds and gems
We practice custom design through custom experiences. As you and your story are unique, no two projects are the same, and your ring design will never be repeated.
Online or offline, we are with you every step of the way