White diamonds have dominated the engagement ring market for decades. And it's easy to see why. They are beautiful and durable, and almost guaranteed to last as long as your relationship. But along with your wedding ring, your engagement ring is arguably the most important piece of jewellery you will ever buy or own. It symbolises so much. And that's why an increasing number of couples are looking for an alternative to the white diamond, to give their engagement ring a character all of its own. And black and grey stoned engagement rings are one of the hottest looks for 2021.
Five Black and Grey Stoned Custom Engagement Ring Styles to Savour
The classic halo engagement ring with a black diamond twist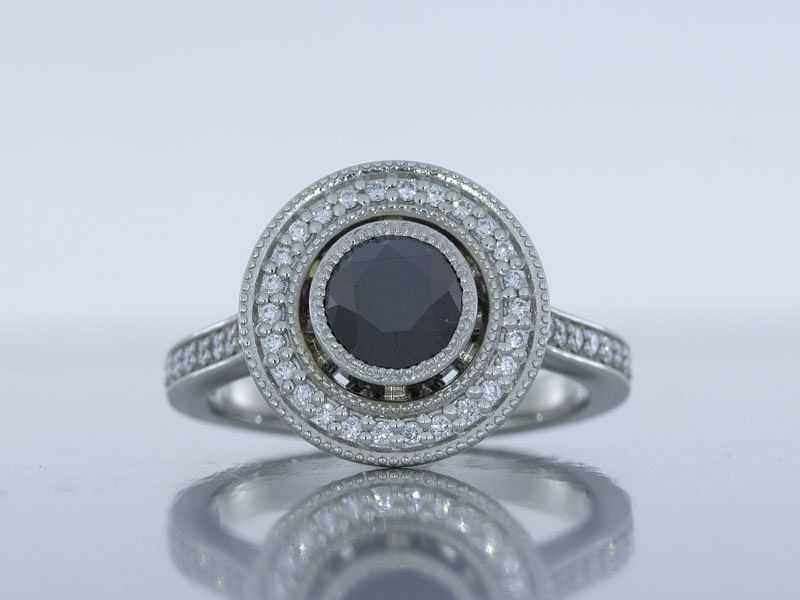 The halo is one of the most popular engagement ring styles. It takes it name from the fact that a circlet of smaller stones is used to create a halo effect around a larger centre stone. It's a fabulous way of adding extra sparkle to any precious stone. And can be a great way to put your own stamp on your custom designed engagement ring. And that's exactly what we have here, with this stunning black diamond halo ring. Set in platinum, with a halo of white diamonds embracing a large black diamond centre, and grain detailing, this ring is simply breath-taking.
Gothic inspired grey diamond custom engagement ring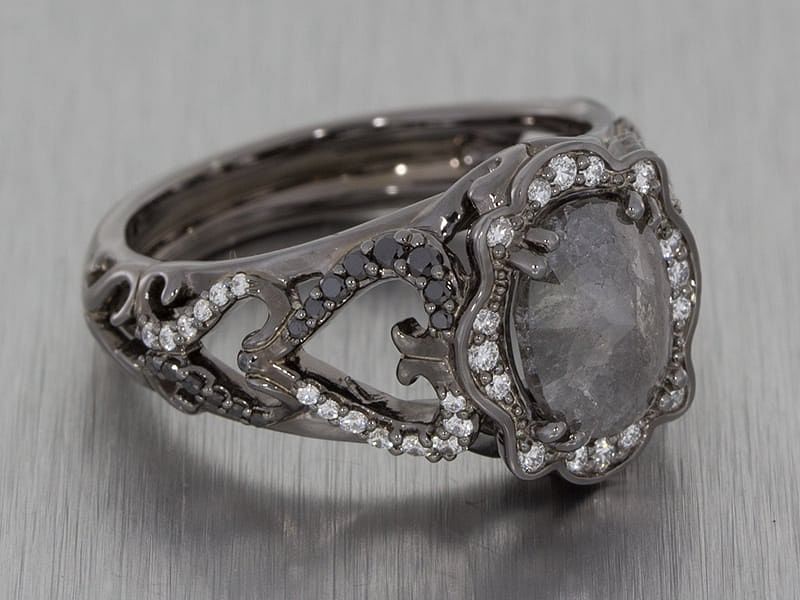 There are some styles that simply cry out for a black or grey diamond. If you're planning a custom engagement ring with a gothic aesthetic, then there's really no better choice of stone. In this striking piece, a stunning rose cut grey diamond is set in rhodium-plated palladium, and accented with white and black diamonds. With heart-shaped scrollwork along the band, this is an intensely romantic engagement ring, with its roots firmly in the baroque.
Salt and pepper diamond asymmetrical engagement ring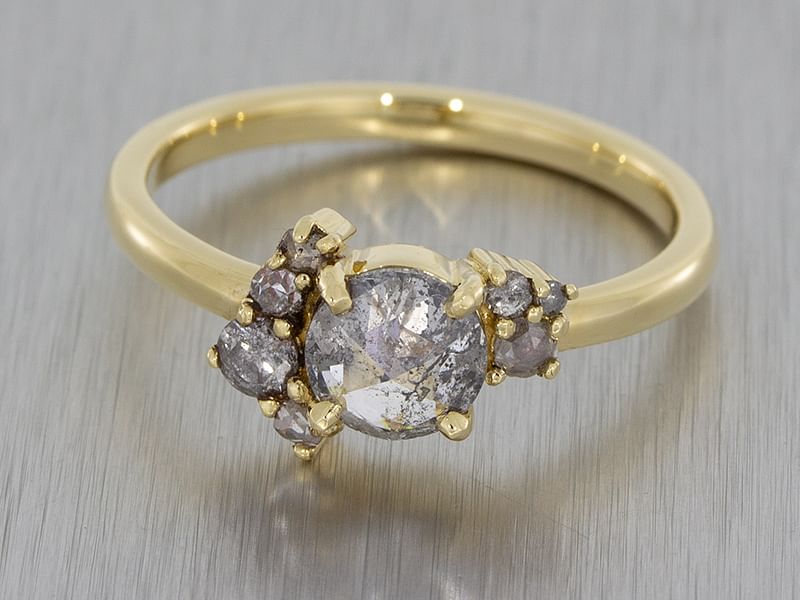 For those couples who like the idea of moving away from the traditional white diamond, but don't want a stone as dark as the black diamond, salt and pepper diamonds present a gorgeous alternative. Richly characterful, the rose cut diamonds in this piece were taken from a family heirloom. Bringing additional sentiment and value to this beautifully formed ring, while helping to reduce the overall cost. And the result speaks for itself.
Black and blue: combining stone colours in a contemporary engagement ring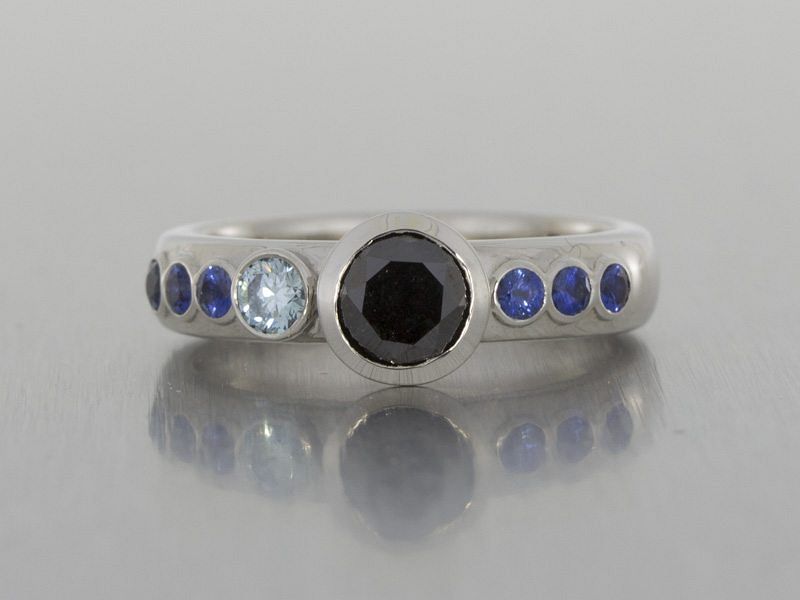 You don't need a halo to mix stones within a custom engagement ring. In this original piece, our customer selected a splendid black diamond centre, and added complementary blue diamond and blue sapphire stones around the smooth palladium band. The idea was to create a look that was at once harmonious and organic. And we think that it is pretty incredible.
The onyx alternative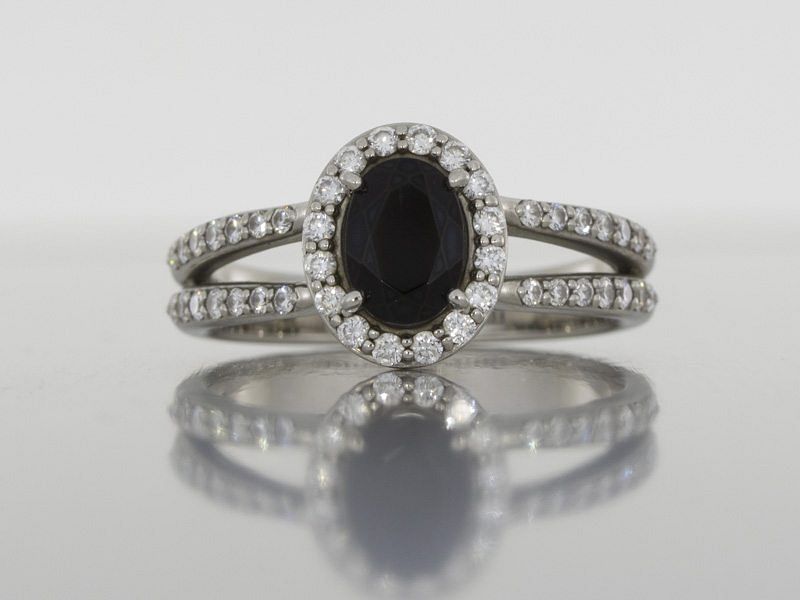 Although black diamonds are generally less expensive than white diamonds, if you're looking for a stone large enough to create an impact, a black diamond will still set you back a pretty penny. And that's where onyx can come beautifully into play. Massively popular in the Victorian period, black onyx isn't seen quite so often in contemporary jewellery. But that is part of what makes it an interesting choice for a bespoke engagement ring. It's a little bit different. It's incredibly eye-catching, especially when surrounded by white diamonds. And it's durable – 7.7 on the Moh's scale – so it will last for years to come.
Black and grey diamonds are not a traditional engagement ring choice. But if you're looking to make a ring that is uniquely yours, that has to be part of the appeal. And there's no arguing against the fact that these stones are simply magnificent.
Do you need help creating your own stunning custom engagement ring? Get in touch with Durham Rose.